Kayak tours with guide in Menorca
Discover the coast of Menorca and make the best kayak routes with an experienced guide that will surely make you and your friends spend a lot of fun and unforgettable moments, showing you the richness of Menorca's coastline. An ecologist tourism, conscious with the natural environment, perfect for couples, family and friends. You do not have to have any previous experience.

** It is a must to know how to swim **

 
4 hours route from Cala Galdana-Mitjana Visit includes: 6 caves, natural areas, virgin beaches and snorkelling.
6 hours route from Cala Galdana-Trebaluger (the same as the previous one, with more time to rest and enjoy Cala Trebalúger and venture in its river with the kayak).
Departure from the jetty located at the mouth of the river of Galdana in Passatge Riu
GPS coordinates: 39.9388382, 3.9573439 or N 39º56.317´, E 3º57.441´
We also have other alternative routes through various points on the island.
The price for the route INCLUDES material and insurance and a cold isotonic drink.
IT IS RECOMENDED TO BRING: water, snack, hat, sunglasses, water shoes, t-shirt, sunscreen, towel, diving goggles and clothes to get changed.
Take a souvenir of this unforgettable experience with our photography service from € 30.
Transfer service (we pick up the clients at the Hotel or agreed place , we take them to the starting point and we return them to the Hotel.
Up to 8 people, check our rates.
Kayaks rental
According to the needs of each client and type of route we offer two types of kayak: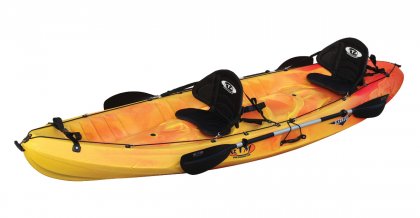 KAYAKS SIT ON TOP (open self-emptying) double + 1 child
They are very stable and safe for beginners and simple routes, ideal to spend a pleasant day with your partner, friends or family. (no previous experience needed)
Includes: Watertight drum, life jackets, oars, chairs.
Rates kayaks sit on top
| 1 day | 2 days | 4 days* | 1 week * |
| --- | --- | --- | --- |
| € 50 | € 90 | € 125 | € 155 |
*€ 20 per extra day.
* Includes map, waterproof backpack and removable paddle.
Delivery/ collection in Sant Tomàs and Cala Torret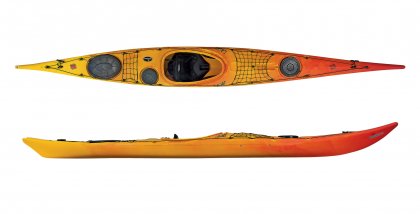 CROSSING KAYAKS (closed with 3 watertight compartments) Individual
They are fast, stable and light, allowing you to make longer routes. Perfect to discover part of our coastline or even make the return to the island. It is necessary to have experience.
Includes: Lifejacket, rowing, blankets, bilge pump, sponge, armchair.
Crossing kayaks rates
| Teach basic notions | 1 day (more than 4 h) | 2 days | 4 days* | 1 week* |
| --- | --- | --- | --- | --- |
| € 50/1pax/2h | € 45 | € 75 | € 125 | € 155 |
*€ 20 per extra day.
* Includes map, waterproof backpack and removable paddle.
We can also take you to the starting point and pick you up at the point of arrival, so you can do the stages you want at your own pace comfortably.
Check our rates, maximum 8 people.
If you want to have fun in the coast of Menorca, this is a good way to do it with a Paddle
Inflatable Surf. It comes in a backpack that includes an inflator. It occupies little space to store it and offers comfort in transportation. It's fun and easy to use.
Go to your favorite beach and in a few minutes your table will be ready to enjoy.
We also teach you the basic technique of use.
Paddel surf rates
| 1/2 day | 1 day | 2 days | 1 hour |
| --- | --- | --- | --- |
| € 30 (4h min. 2 paddle) | € 40 (more than 4h) | € 70 | € 30 (to teach basic technique, min. 2 people) |
Includes:
Transportable backpack, inflator, board, life jacket, rowing and leash.
Delivery and collection service in the area of Ciutadella.
In collaboration with DMS SPORTS&KAYAKS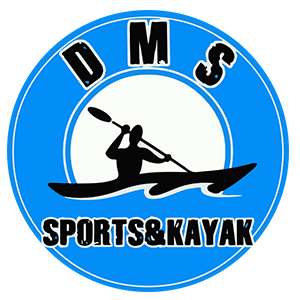 Active Tourism TA 0007 ME